Kiwi Kiwi
Kanji

キウイキウイ

Rōmaji

Kiuikiui

English

Kiwi Kiwi

Information

Type

Bird

Capture Level

30

Length

3 ft

Height

5 ft

Weight

50 lbs

Diet

Invertabrates
Seeds

Location
Abilities

Sensitivity
Speed

Status

Active
Kiwi Kiwi (キウイキウイ, Kiuikiui) is a flightless Bird Beast that lives in and around the Wul Swamp and is typically preyed upon by Kingrano and Tyrex. Their Capture Level comes more from their speed and their predators.
Appearance
Edit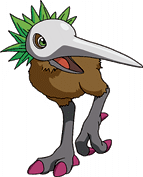 A Kiwi Kiwi is a five foot tall Bird Beast with small, fur-like brown feathers, long black legs, red nails, a smooth white head and a crown of green feathers. The birds also have green eyes and usually travel in flocks. Their smooth heads are as strong and as durable as steel, making it easy for them to spear their prey or for defense. These birds are also remarkably quick, being able to run at 80 km/h normally and can hit these speeds from a dead stop and even stop on a dime.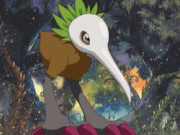 Kiwi Kiwi, being prey animals, are highly wary creatures. They have a highly developed sense of smell and sharp eyes. Several in the flock take turns keeping watch for predators and will warn the flock of any dangers. When Kiwi Kiwi feel threatened they can take off at up to 130 km/h from a standing position.
If Kiwi Kiwi are unable to outrun their predators, their powerful legs and sharp nails allow them to deal devastating kicks with deep gashes. Their heads are also strong and durable, like steel, allowing for spear-like pecks or highly damaging head-butts.
The meat of the Kiwi Kiwi has the texture of meat and is to be cooked like meat, however it tastes like Kiwifruit. The flavor is unique but is reminiscent of the invigorating flavors of strawberries, melons and bannanas. The blood has high levels of actinidain, which keeps the meat incredibly tender and, like the Kiwifruit, has an almost creamy consistency from how tender it is.
Ad blocker interference detected!
Wikia is a free-to-use site that makes money from advertising. We have a modified experience for viewers using ad blockers

Wikia is not accessible if you've made further modifications. Remove the custom ad blocker rule(s) and the page will load as expected.