This article, Needle, is the property of Ashy, and needs his explicit permission to be edited or modified in any way. Find me at my talk page or comment on the article's talk page to discuss the changes: I won't bite!'
"You see, it's all good and dandy to hunt Ingredients and all, but the people who hunt them need to know about what they're hunting, right? Well, that's my job! And that's why I've learned as much as I can to help out the world in as many ways as I can! Because really...I'm kinda useless at everything else."
— Needle's dreams.
"To weave everyone with the truth."
—Ashy

Needle (ニードル, Nīdoru) is a Bishokuya of quite some renown across the Human World and even parts of the Gourmet World for his skill and prowess. Unlike most, he does not actively hunt out ingredients for his own Full Course Menu. Rather, he is an external researcher for the Gourmet Research Laboratory and an active participant - and champion - of the Gourmet Coliseum, being known as the Gourmet Champion (美食の覇者, Bishoku no Hasha; literally meaning "Champion of Gourmet Food") as a result of this. Beyond this, Needle's exceptional talent in a wide variety of fields have allowed him to individualize his own title as Bumble Bee (花蜂, Hanabachi), a title that Chefs, Bishokuya and Saiseiya both respect and fear.
Appearance
Edit

Needle bears the appearance of a strikingly young man despite all of his accomplishments. His demeanour is that of an innocent young man - mostly - and his physique is overall quite slim. Nevertheless, he shows impressive muscular definition when it comes down to it, easily beating higher-level monsters in a contest of strength due to his Gourmet Cells. Needle has notably bright blond hair which is kept in a standard, short, bob-cut of sorts. They barely reach the tip of his equally blonde eyebrows and frame his dark grey, bordering green, eyes. Both of these traits are one of the many reasons for his alias as "Bumble Bee", though there are plenty more. In terms of his physique, Needle is quite short in comparison to several Bishokuya, standing at a rather average 176cm. Needless to say, Needle is quite intimidating when it is necessary, quickly and effortlessly changing his demeanor to suit the occasion. 
When it comes to his attire, Needle is quite simplistic and practical. Absolutely detesting formalwear, Needle wears a lavender, sleeveless, vest with various highlights. At its sleeves and near the base of his neck lie blue highlights, which is a similar color to the white arrow-like design nearing Needle's pelvic region; also quite thick. Just above this is a darker green sash that he keeps the clothing fastened together, and at his chest area are two white rectangular patterns. Underneath this, to lessen his skin exposure, Needle wears a black, sleeveless, undershirt with a higher collar than most - acting similarly to a polo. For his lower body, Needle is seen to wear a pair of similarly colored pants that go up to his ankles, along with a pair of surprisingly feminine, flat blue shoes. Albeit, this is from a distance.
Personality
Edit
Synopsis
Edit
Equipment
Edit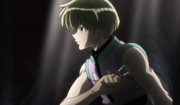 Powers and Abilities
Edit
Hunting Method
Edit
Physical Prowess
Edit
Intimidation
Edit
Knocking
Edit
Sixth Sense
Edit
Appetite Energy
Edit
Techniques
Edit
Food Honor
Edit
Techniques
Edit
Ad blocker interference detected!
Wikia is a free-to-use site that makes money from advertising. We have a modified experience for viewers using ad blockers

Wikia is not accessible if you've made further modifications. Remove the custom ad blocker rule(s) and the page will load as expected.